Hidden History
SEE Southampton's popular Hidden History Walks are a stroll through the past of the City, exploring the Walls of the Old Town, with your Guide recounting tales of yesteryear, and bringing to life historical characters, and life-changing events.
We will tell you about Southampton's association with the Romans, Saxons and Vikings, the building of the Town Walls  – standing since the 1300s – and the City's ancient legends. We have 'keys to the city', enabling us to open up the locked doors of the Medieval Towers and Wine Vaults! We also visit (subject to it being open) the City's oldest Church, St Michael's.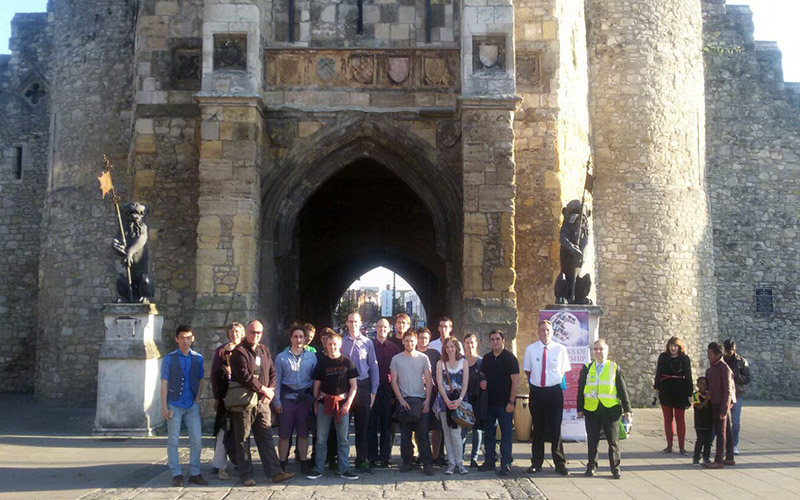 Places associated with Jane Austen's time in the city are included, and the City's Spa Period from 1750-1830 is described. The Mayflower and Speedwell departed from Southampton, and important locations associated with the Pilgrim Fathers are covered, as is the City's connections with the Titanic, which sailed from here. The City's role in conflicts from the Battle of Agincourt, through to the Blitz and Normandy Landings on D-Day are also addressed
Walks last 1&1/2 hours and are gently-paced, however some stairs are involved. If you have any problems with these, or with heights or enclosed spaces, let our Guide know, and they will be able to adjust to help you.
Walks run at 10.30am on Saturday and Sundays, starting from the Lions at the Bargate in the City Centre, The cost is £6, children below 16 free, but must be accompanied.
SEE Southampton – More history than you ever imagined!